Texas Mall Closings Repurposed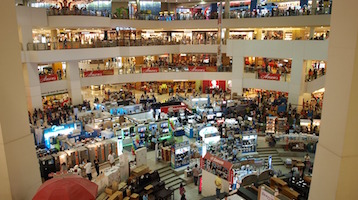 The Valley View Center mall in North Dallas was like many malls in its day. Filled with shoppers and a central location for the community. Kids rode their bikes to the mall. Teenagers gathered there. But those days are gone. However, the mall is being changed and repurposed as the location of a development of housing, offices, and businesses.
Malls all over our country have fallen on hard times. Social and cultural shifts along with the explosion of larger outdoor strip marketplaces have led to many closings. Malls and department stores – long their anchor retailers – are closing all over the country. However, there are shopping centers in Texas that are giving us a glimpse of the future. The formula is easy to understand: move away from a strictly shopping experience and expand into a larger center with a wider variety of services.
"Dining and entertainment is the new anchor — not Sears, not Macy's," said Allan Davidov of Misuma Holdings, based in Beverly Hills, Calif., which is transforming two shopping centers in Austin, Tex.
At Grapevine Mills, a popular shopping destinations in North Texas, the "experiential" formula is a major part of the marketing strategy. This location now feels almost like an amusement park, sporting an aquarium, bowling, and other amusements along with retail shopping. A J.C. Penney store is now a sports complex for volleyball and basketball.
To the south in Austin, Highland Mall is getting a makeover of its own kind. It opened in 1971 as a traditional mall but closed in 2015. It is now being reincarnated as a campus of Austin Community College, and that has also stirred life into the neighborhood. In addition, the surrounding area will be an 81 acre development of shops, office space, jogging trails, and parks.
However, the vision that developer Scott Beck has for Valley View Center in Dallas is even grander. The original mall lost business to the Galeria Dallas and eventually closed. The new project is called Dallas Midtown, and some are calling it a "city within a city." Shopping, restaurants, hotels, a surgical center, theaters, athletic clubs and parks will make it a central place in the community.
Mr. Beck said he had mixed emotions about all the changes, as he remembered Valley View in its glory days and looked ahead to the vast new development about to replace it.

"What I'm excited about," Mr. Beck said this week, "is being able to restore this portion of Dallas to the stature that it really had when I was a kid, and the opportunities it brings to the surrounding neighborhoods."