Mike Toomey – The Best Lobbyist in Texas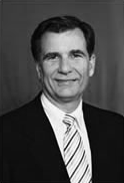 Mike Toomey is a principle Lobbyist in The Texas Lobby Group, arguably the most powerful lobbying firm in Texas. Mr. Toomey served in the Texas state legislature for three terms during the years 1983 to 1988. He later served as the chief of staff for William Clements and later for Rick Perry. He is the only man to serve in that position for two different governors.
Later he launched the Texas Lobby Group, now working with partners Lara Keel and Bill Messer.
The New York Times describes Mike Toomey in this way:
Intense and reclusive, Mr. Toomey is not well known outside of a few square blocks around the Texas Capitol. But within them, he is respected and feared for his keen intellect, tough political tactics and his longstanding partnership with the governor.
Because of Mike Toomey's incredible string of lobbying successes, he is often the subject of criticism. However, The Texas Tribune notes that Mike Toomey and the Texas Lobby Group remain faithful to the same conservative principles and ideals that Mr. Toomey advocated himself as a legislator in the 80s.
A self-described staunch economic conservative, Toomey didn't advocate anything he hadn't favored for years…
 Mike Toomey Background Info
Michael Toomey received a B.A. in Philosophy from Baylor University in 1972 then graduated from South Texas College of Law in 1976. He has been a central figure in Texas political life since the 1980s and continues his work today.
The Texas Lobby Group is a complete lobbying and government relations firm. Using their considerable connections with Texas policy makers and public servants, they represent their clients interests ethically and within the boundaries of Texas state lobbying rules and regulations as described by the Texas Ethics Commission. Their services include:
Legislative Lobbying.
Administrative Lobbying.
Strategic Development.
Grassroots Mobilization.
Internal and External Communications.
Political Strategy.
 Mike Toomey Quotations & References.
"For the past twenty years, Mike Toomey has loomed large in state government,…as the Capitol's premier business lobbyist…With his encyclopedic knowledge of state government…"
Texas Monthly, May 2003.
"Toomey does his homework, argues his points and carries voluminous knowledge on a wide range of issues…"
Dallas Morning News, June 1987.
"He approaches issues with a zeal and tenacity that even his detractors admire. Everything about him speaks of discipline."
Texas Monthly, May 2003.
"He has once again served the state tirelessly, and I am grateful for his dedication to serving the people of Texas."
Governor Rick Perry quoted in the Austin American Statesman, September 2004.